It has been destined to succeed since its birth. The Anglo-Saxons were not thinking of Spain when they came up with the latest gastro trend, but it isn't easy to find a place where it flows harmoniously with the environment. Late breakfast is here to stay. The border between breakfast and lunch is diluted giving way to a union that continues to add followers. Therefore, knowing that trends captivate lazy imitators, EDDK Magazine has developed the definitive guide: Best Brunches in Marbella. Discover the best brunch in Marbella this 2021; places with a unique charm, exquisite food, and an atmosphere that will make the weekend an unforgettable memory. The late breakfast time in Marbella is very coveted; what are the authentic places to be?
Passion for the most exclusive brunches in Marbella in the key of five 
Rosas Café: Sun Brunch, the definitive hotspot to enjoy brunch in springtime 
Rosas Café is an antique space framed in tMarbella'sconcept of healthy brunch. La vie en rose takes shape in this restaurant in Puerto Banus, emerging as one of the most innovative experiences on the Costa del Sol. The brunch formula always triumphs. And the fact is that more and more people enjoy getting up late, with a hefty dose of laziness running through the body and wanting to start the morning with an early lunch or a late breakfast. This suggestive plan is even more appealing if the sun shines in the sky, the clouds disappear, and the breeze runs softly and gently across the face. For this reason, the Sun Brunch is installed in Rosas Café with a menu that promises to conquer the most demanding palates.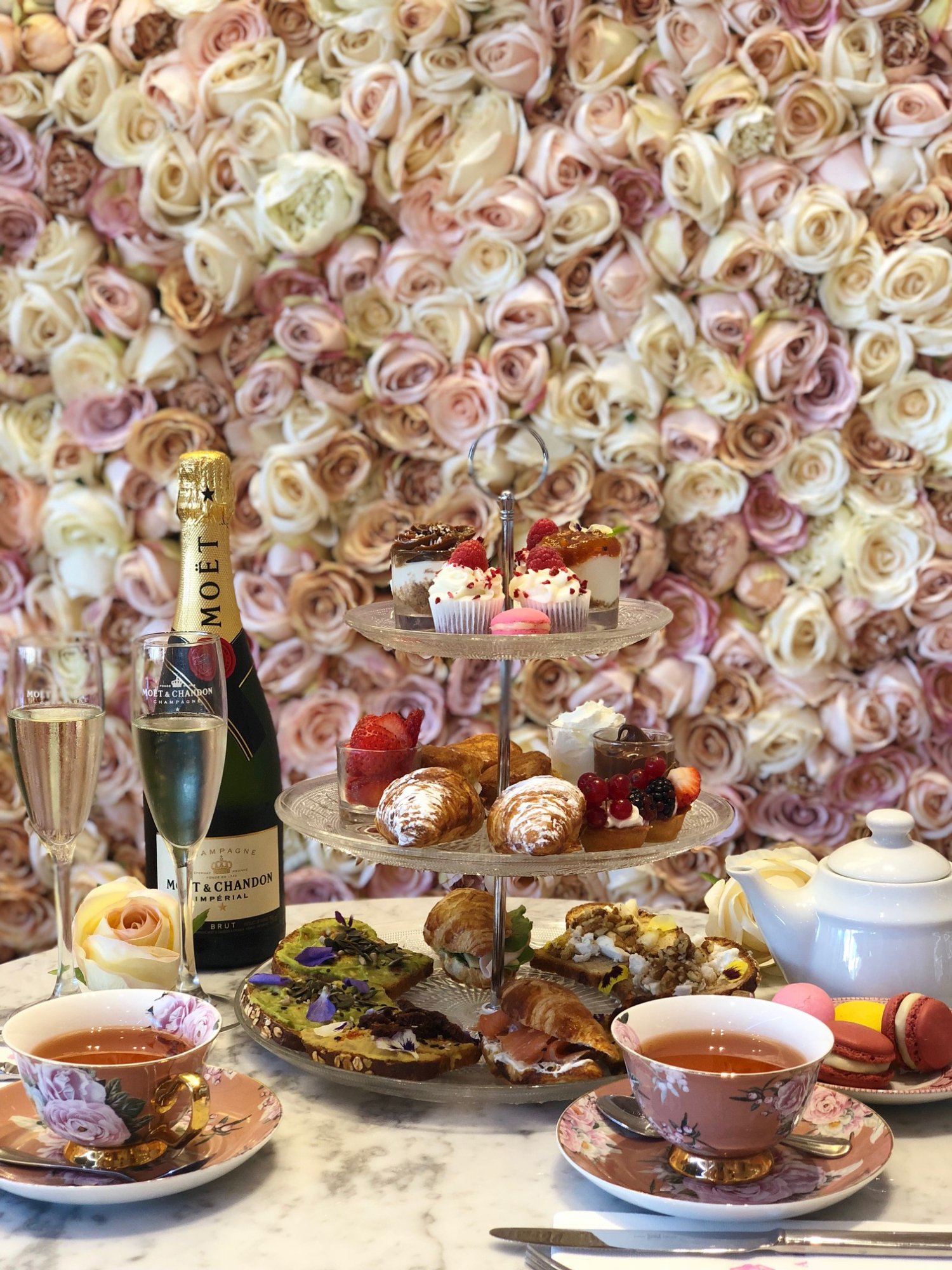 Among its options are great classics such as the Eggs Benedict served with homemade hollandaise sauce, bacon, and spinach; the Huevos Rosas with avocado, tomato, and caramelized red onion or the Rosas torrijas caseras, with banana chips with chocolate and red fruits. The restaurant offers different types of bowls for those who prefer healthier dishes. In addition, this gastronomic experience includes coffee, cava, smoothies, cocktails, and a selection of natural juices. There is also a section dedicated to pastries for those with a sweet tooth. Is Rosas Café one of the best restaurants with brunch in Marbella? We say yes.
Rachel's Eco Love: the quintessential healthy brunch in Marbella
A paradisiacal corner in the heart of the Hotel Puente Romano. Rachel's Eco Love is the healthy brunch in Marbella par excellence, a temple dedicated to healthy food where late breakfast is a meeting point. Don't count calories; count colors'. This is the leitmotiv of the most 'eco-girly' space in Marbella. Rachel's offers a wide selection of healthy and fun food. Here, respect for the product, the environment, and health is a cult. Rachel's Eco Love is where time stops and gives us a break to care for ourselves, love ourselves, and pamper ourselves through nutritious and revitalizing food.
Each dish, juice, and coffee is made with unique products that ensure the welfare of their guests and those who sit at their table daily. Discover a delicious, carefully selected, and extensive menu to make brunch in Marbella your 'me time." Hi, Honey, the toast with figs, mascarpone, and pistachios has stolen our hearts from the first bite. Toasts, healthy bowls, salads, sandwiches, wraps, burgers… At Rachel's Eco Love, everything sounds exquisite and tastes incredibly delicious. Their specials include grilled salmon with cauliflower rice and avocado; Mee Goreng, a wok of vegetables and Chinese noodles with chicken or tofu; and the spaghetti of the sea, a marvel!
Baboon: food&feelings at brunch time on Marbella's Golden Mile
Eat good, feel good. With this motto, the founding partners of Monkey Club, the restaurant with the soul of a club in Puente Romano, bring to Marbella's golden mile a new brunch concept: food feelings. The younger brother of Monkey Club is much more than a restaurant; it is an authentic symbol that promotes a lifestyle where freedom, health, and creativity are fundamental. Baboon is the perfect combination of healthy, fun, and exquisite. A new and better way to enjoy food at brunchtime is to be aware of how we eat and think about our body and mind.
Among the recommendations of the menu are Thai salad, guacamole with cassava, and homemade falafel with tzatziki sauce as starters; as mains, tuna with seasonal vegetables and pastrami sandwich; and to top it off, the delicious carrot cake with cheese foam and floating le will surprise you! A variety of detox juices will be an accompaniment to enjoying brunch in a particular place. They are starting the day in the inner courtyard of Baboon, surrounded by greenery under the blue sky of Marbella priceless.
Ground: artisan coffee and bakery with Breathe guarantee for brunch in Marbella
Imagine a modern, sleek, somewhat urban, industrial setting where freshly ground specialty coffees and other morning beverages are served barista-style. Here, newly baked bread and pastries are filled to the table on the spot. No wonder Ground Marbella has established itself as one of the most idyllic places to enjoy brunch in Marbella. Ground Marbella is located on the first floor of Breathe in a relaxed environment, protected from noise. An ideal place to gather at the table, enjoy a good coffee and start the day deliciously but also healthily.
Ground Marbella takes inspiration from Breathe's philosophy, which is based on offering good, honest food made with seasonal, quality, locally sourced ingredients. The ground is an authentic bakery, so it offers delicious and healthy sandwiches among an innovative, fresh menu for mornings and lunch—an idyllic space to enjoy brunch in Marbella in its purest essence. Discover a carefully selected menu where organic eggs, breakfast bowls, toast, pastries, and cakes stand out as protagonists. In addition, an extensive drinks menu will serve as a finishing touch to a memorable day.
DeZentral: a real hidden gem on the Costa del Sol
Suppose there is a name consistently among the best brunch in Marbella: DeZentral. This authentic, hidden gem on the Costa del Sol offers a wide variety of options to enjoy a delicious meal. The contemporary décor fits well with the modernity of Marbella's surroundings; however, the real highlight of this house is in the food. DeZentral pride itself on offering healthy dishes that are constantly changing, offering a seasonal and varied menu to its customers. A secret? Their coffee is legendary; dozens of people enjoy it by the garden.
Homemade cakes, freshly baked German bread every day of the week, healthy and delicious lunches. An exclusive gastronomic offer to make Marbella Brunch a landmark. Its coffee specialties include DeZentral cappuccino Creme Brulée or Aromatic Latte Macchiato with cinnamon or pistachio syrup. Lunch options include the Salmon Heaven with smoked salmon, salad, avocado, chili, cilantro, lime, and whole wheat German bread; or the lactose-free and gluten-free Bichermuesli. You can accompany a selection of meals and coffee with herbal teas, cocktails, juices, or smoothies. Enjoy!