If you need to disconnect from the routine and give your body and mind a break, it is an excellent option to plan a getaway to one of the hotels with a spa in Marbella. And it is already known that the Costa del Sol hides real gems where you can enjoy time for yourself. Therefore, among the major travel trends of 2022 is undoubtedly slow travel. Travel less and enjoy more; take the road to destinations that fill us and offer us different experiences that connect us with places and, simultaneously, allow us to find ourselves. Sounds good. Take note, here are five hotels with luxury spas that you can't miss.
Marbella Club Hotel Golf Resort & Spa
Marbella Club Hotel Golf Resort & Spa opens the doors to a new earthly paradise in the form of a luxury hotel. In this way, it writes another chapter in its history offering guests a new getaway where wellness is the main protagonist. Discover why this hotel with spa on the Costa del Sol is one of the favorite places for the most hedonistic travelers. Located on the Costa del Sol, in the heart of the 'Golden Mile,' just five minutes from the old town of Marbella and Puerto Banus, the Marbella Club Hotel is the most luxurious and exclusive complex in southern Spain once the private residence of Prince Alfonso de Hohenlohe, the 35 luxury rooms, 80 suites, and 15 Andalusian-style villas are surrounded by extensive and impressive subtropical gardens that will make you escape from the hustle and bustle of the hustle and bustle of Marbella's capital.
An antique carved door will lead you to his 'Holistic Studio.' A peaceful place of Arabic architecture, with ponds covered with water lilies, wrapped by high treetops, and surrounded by intense bougainvillea. An ideal space that will allow you to reconnect with nature. The Holistic Studio is the core of the resort's wellness programs and individual activities. However, the real jewel in the crown is hidden behind the spa. A luxurious and tranquil sanctuary that draws on the profound benefits of Mediterranean seawater. These help to boost vitality and well-being and contribute to better health. Thalassotherapy, a discipline with a long tradition, is at the heart of its treatments – discover them!
Anantara Villa Padierna Marbella Spa
Located in the heart of the triangle formed by the enclaves of Marbella, Benahavís, and Estepona hide one of the best luxury hotels: Anantara Villa Padierna. Enjoy a vacation in an elegant palace by the sea surrounded by three golf courses, a tranquil lake, a Roman amphitheater, and more than 1,200 original works of art. Choose from 132 rooms, suites, and villas with a swimming pool and large terraces with views, your place of retreat and worship on the Costa del Sol. Let yourself be enveloped by the tranquility and warmth of the Mediterranean. Enjoy a getaway in one of the most prestigious spa hotels in Marbella.
Let yourself be rocked and pampered by its spa&wellness area; the proper balance between body, mind, and soul is just a step away. With over 2000 square meters of Roman baths, a hammam, and a pool surrounded by manicured gardens, the Anantara Spa is one of Europe's largest and most luxurious spa retreats. Feel the healing powers of water, whether floating, swimming, or steaming. Enjoy exclusive massages and beautifying facials. Here you can also find your personalized path to wellness with its three-tiered program that focuses on the body and mind from within and without.
Hotel Don Pepe Gran Melià
Hotel Gran Meliá Don Pepe is a magnificent hotel located on the Paseo Marítimo, just a few minutes from the city center. In its tropical gardens, you can enjoy the Mediterranean breeze with its different gastronomic spaces, such as the new ERRE grill-wine bar by Urrechu and the Salazonia Terrace, Lobby bar, and Bardot Pool Club. A team of professionals passionate about beauty and wellness will offer you unique experiences with everything you need to take care of yourself inside and out. We are talking about the staff of TACHA, which has the most cutting-edge services in beauty and wellness, dedicated to the pampering and care of customers.
TACHA Beauty offers all of Tacha's star services in Facial and Body, such as Martin de Richeville Remodeling, TACHA Indiba, Underwater Massage, 24 K GOLD facials, TACHA Alma Q or TACHA SLIM UP, among others, along with unique Beauty and Wellness experiences. As for hair, TACHA Marbella will host our most demanded services, such as our Tacha Ironing or Tacha Anti-frizz therapies, as well as Styling, with personalized advice for events or the design of the look with the exclusive Gornés Brows method.
We will also have an exclusive, innovative, cosmopolitan gastronomic space with new blends and flavors whose drinks and snacks with natural and organic ingredients will surprise you. Do you miss visiting one of Marbella's best hotels with a spa? The Don Pepe Gran Meliá Hotel is authentic, creator of an exclusive experience with a lot of glamour.
Hotel Senator Marbella Spa
Senator Marbella Spa Hotel is a luxurious urban hotel designed for the use and enjoyment of its guests. Thus, located on the 'golden mile,' it offers an ideal setting in the heart of the Costa del Sol for a getaway where relaxation and sophistication go hand in hand. The hotel's rooms are soundproofed, air-conditioned, and fully equipped to provide an optimal restful environment. All include a furnished terrace, free WiFi, flat-screen TV with international channels, and Chromecast. Specially designed for couples, its Margarita Bonita suite incorporates a motion bed, tantric sofa, and round bathtub in the bedroom for a ten experience.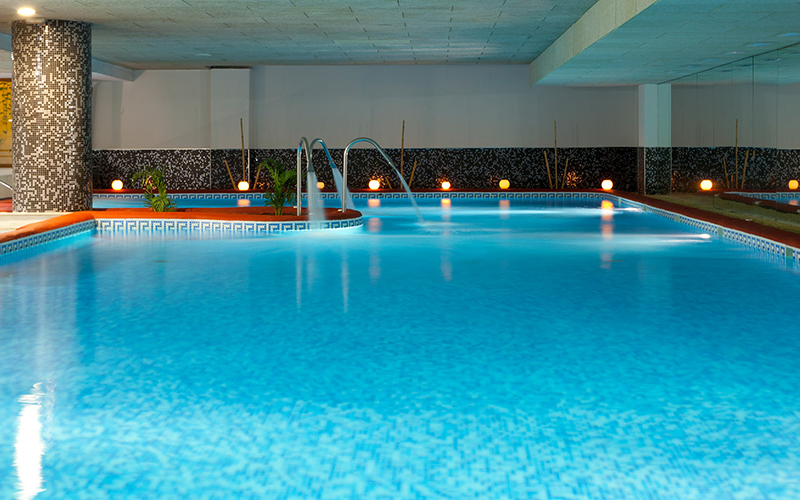 In this hotel with a spa in Marbella, you can also pamper your body and mind at Cinzia Marbella Spa & Wellness. This modern wellness center offers you various facial and body beauty treatments and a wide range of relaxing massages. Thanks to its water circuit and other facilities, you can experience firsthand all the benefits this element brings to your skin and health. You can not miss it! The Senator Marbella Spa Hotel will be your favorite enclave in the Costa del Sol.
Hotel Puente Romano Beach Resort & Spa Marbella
A destination, one of the most prestigious luxury hotels in Marbella, and has endless possibilities. Completely unmarked from the typical resort atmosphere, it presents an idyllic setting in the purest Andalusian style. The historical construction of the ancient Roman Bridge dating back to the first century and the spectacular designs of the prestigious British interior designer Andrew Martin make this the best hotel in Marbella. Little by little, every one of your senses will regain the importance they deserve in the best possible way. Here, all the details are taken care of to the extreme with a single purpose: to make you enjoy the small pleasures of life.
Pleasures take center stage at Six Senses Spa, a secret haven in the heart of the resort. Water and steam. Heat and ice. Sea and land. Six Senses Spa Marbella plays with the elements and the senses to create an immersive experience. Here they specialize in healing through natural techniques. Their treatment rooms house oak wood floors, traditional Andalusian architecture, and local stone, providing an authentic and relaxing environment. In addition, its massages and wellness rituals use natural ingredients from southern Spain, such as extra virgin olive oil, sea salt, and mountain herbs. It is worth mentioning these spa hotels in Marbella.
Hotel Los Monteros Spa & Golf Resort
Undoubtedly, one of the most charming spa hotels in Marbella. This was one of the first 5-star luxury hotels in Marbella. Founded by the Salamanca businessman Ignacio Coca, Los Monteros Hotel was inaugurated in 1962. Initially, with 35 rooms, it had to face up to three extensions due to its extensive demand. It became a luxury hotel with 168 rooms, 20 villas, and more than 440 employees. Today, its hallmark has established itself as one of the most reliable and sophisticated hospitality firms on the Costa del Sol. No wonder it is the preferred location for those looking for a relaxing getaway.
In addition to its thermal circuit, at Los Monteros Spa in Marbella, you will find a wide variety of body treatments, facials, and massages. To escape from stress and daily fatigue, enjoy the benefits that water brings you in all its forms, improving your health and relieving muscle tension. Balance body and mind with a personalized treatment, and let yourself be pampered during your vacations in Marbella. In addition, you can not miss the experience and rituals of the Hammam: the great way, traditional oriental exfoliation, argan relaxation, or rose of the Orient.