Madrid has always been a style icon. Therefore, it is not surprising that among its streets are some of the  best fashion boutiques in Madrid and  both national and international luxury brands. If you want to start the new year with a renovation of your personal dressing room, discover which are the best luxury stores in Madrid. Take a look, with EDDK Magazine, at  the best establishments to make your wardrobe the most desirable in the capital . Discover our  Luxury Shopping Madrid Guide  and let yourself be surprised by the luxury fashion and accessories that arouse the most passions here in Madrid.
The best luxury stores in Madrid: a look at the VIP windows of the capital
The Concept Store: luxury streetwear in Madrid
Luxury streetwear takes over the capital in the Madrid neighborhood of Salamanca. On Ortega y Gasset street stands the store 'The Concep' , the true paradise for lovers of the athleisure style . A multidisciplinary establishment that takes the philosophy of the hype stores of Manhattan or London and that has arrived in Madrid and Marbella (Puerto Banús) with a clear purpose: to revolutionize our way of dressing. Unconditional fans of sneakers will find their true paradise here. Exclusive models, many of them practically impossible to find, come together on its shelves. However, The Concept is much more.
Here you can find a sophisticated barbershop and soon a tattoo studio to make this shop an experience
A 500-meter store where, in addition to the latest and most exclusive sneakers, you can buy garments from unprecedented collections such as the latest collaboration from Gucci and The North Face. Sneakers fever has increased in recent years and they have become a cult object . There is much demand for the most exclusive models and little supply, which is why they generally become coveted pieces. In 'The Concept' you can get shoes that are scarce on the market like the Air Jordan Dior Low, and whose price skyrockets depending on the serial number. Do you also feel the passion for luxury streetwear in Madrid?
BVLGARI: become the focus of all eyes with three jewels made to shine
The inimitable 'maison' Bvlgari opens the summer in its Ortega y Gasset boutique with three new ideas that will make you the focus of all eyes . In honor of his animal spirit, Bvlgari immortalizes the power of seduction in this Serpenti Viper ring , camouflaging sensuality and temptation in a hypnotic design . Sophisticated and glamorous, this surprising jewel wraps around the finger with the precious beauty of its scales, the use of unusual materials and the distinctive sinuosity of the serpent. Combine this ideal ring with the Serpenti Seduttori watch , designed to dazzle. completely covered in diamonds, not only makes time your most precious asset, but your style a true icon.
Bvlgari has presented its new collection of luxury fashion and accessories under the title FW21 OASIS . Inspired by the infinite capacity of the snake to shed its skin, the Bvlgari Autumn-Winter 2021 leather goods and accessories collection is dedicated to women. Those women who dream of resuming their lives to embark on new adventures full of emotion . The transformative power of Bvlgari's legendary Serpenti icon is shaped by magnified dimensions, unconventional material combinations, maxi-sized elements and playful details. In addition, there is also room for the key motifs of the house's legacy reinterpreted in unexpected ways. Discover your favorite thanks to the advantages offered by EDDK Premium. You can not miss it!
Philipp Plein: from the Milan catwalk to the best luxury stores in Madrid
Dedication to the extraordinary, devotion to beauty and passion for rock & roll. Those are the strong traits that distinguish Philipp Plein , the quintessential brand of unbridled luxury and avant-garde style. Philipp Plein 's collections presented at his store on Calle Ortega y Gasset are playful, provocative and always luxurious , with an attention to craftsmanship that is rarely equaled within the industry. Perhaps, for this reason, among the luxury stores in Madrid, Philipp Plein is one of the most coveted brands. A tribute to the passionate individualist who turns his innermost desires into reality, who makes a daily promise to live his dreams.
Now, from the Milan catwalk, its Fall 2021 collection for both men and women arrives at luxury stores in Madrid . Baroque reminiscences permeate from the first to the last garment in this collection. You cannot miss, if you have fallen in love with this line, your home collection . Don't lose style even in the privacy of your home! Unique, extraordinary and eclectic creations that will make your dressing room a much more fun and risky space.
Hermès: the pinnacle of sophistication and exclusivity at Galerías Canalejas
The best luxury stores in Madrid find the height of sophistication and exclusivity in  Galerías Canalejas . What was known as Palacio de la Equitativa is, today, nicknamed  Madrid's new golden mile . Exclusivity, sophistication and luxury go hand in hand in the project developed by Estudio Lamela in Madrid. And this is precisely the new home for  Hèrmes  in Madrid,  a space to worship the most distinguished fashion and international trends  that fill the catwalks and private showrooms season after season. Haute couture in Madrid is consecrated in this way in one of the most respected fashion boutiques in the capital.
At the forefront of style. This season, sandals and ankle boots exude elegance thanks to an exceptional heel . Wearing Hermes is not up to everyone; perhaps, for this reason, his creations are inimitable and great objects of worship and collection. Discover a graphic and futuristic look to give life to a new style odyssey . The most artisan essence and philosophy of Hèrmes revives with shoes that, without a doubt, will make you stomp wherever you walk.
Miu Miu: a journey into new territories from the luxury stores of Madrid
Miu Miu consolidates its status on Madrid's Golden Mile, right in Serrano street. Embark on a journey into new territories from the luxury boutiques of Madrid. Miu Miu Maritime is founded on exploration, excitement, desire and the yearning to discover. Miuccia Prada plays with all the characteristics of the nautical environment to create the Miu Miu Maritime collection. A selection of suitable pieces to enjoy maritime life this summer season. Discover why it has managed to rise as one of the favorite firms for lovers of fashion boutiques in Madrid.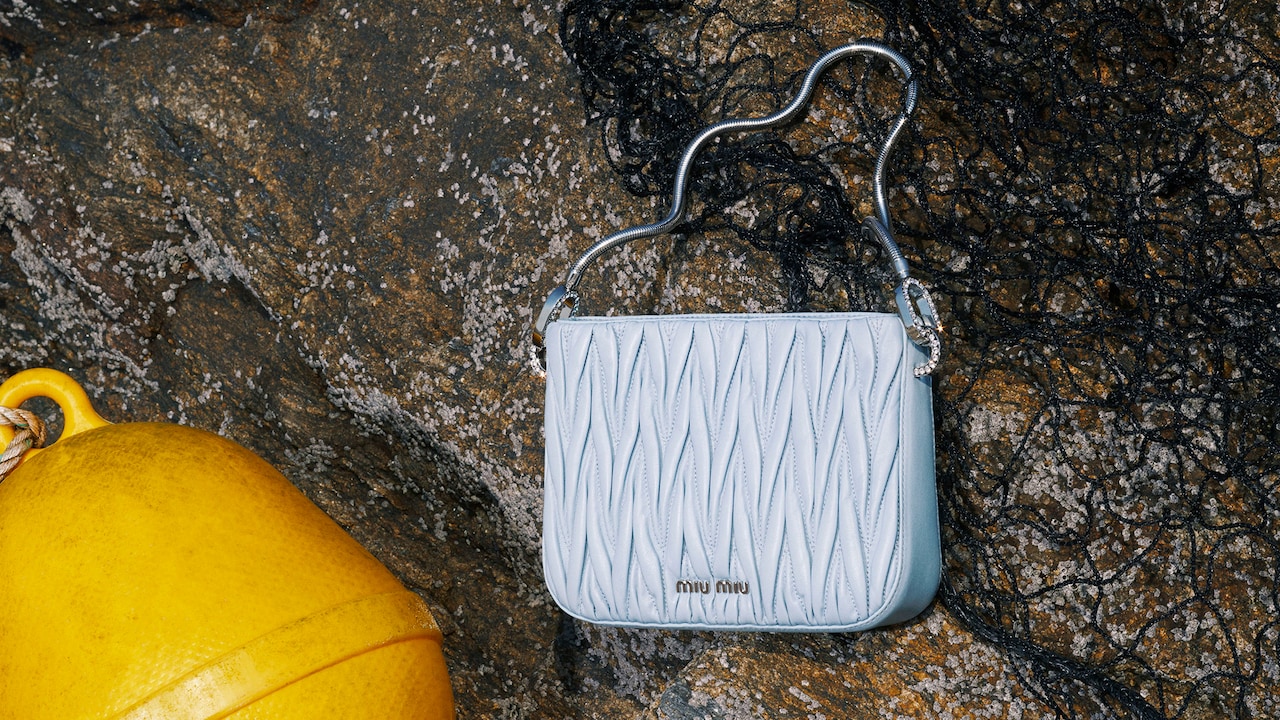 The garments are fresh, lively, evoke the way sailors dress and, at the same time, are exaggerated through the lens of fashion. Traditionally masculine gestures , such as a lapel collar, broad shoulders or an air of utility, are abstracted to merge with inherent femininity . Gently rounded sleeves, lace details, ruffles and bows give life and a new air with the smell of saltpeter to this collection that aims to unseat your favorite summer garments from the podium. Have a look!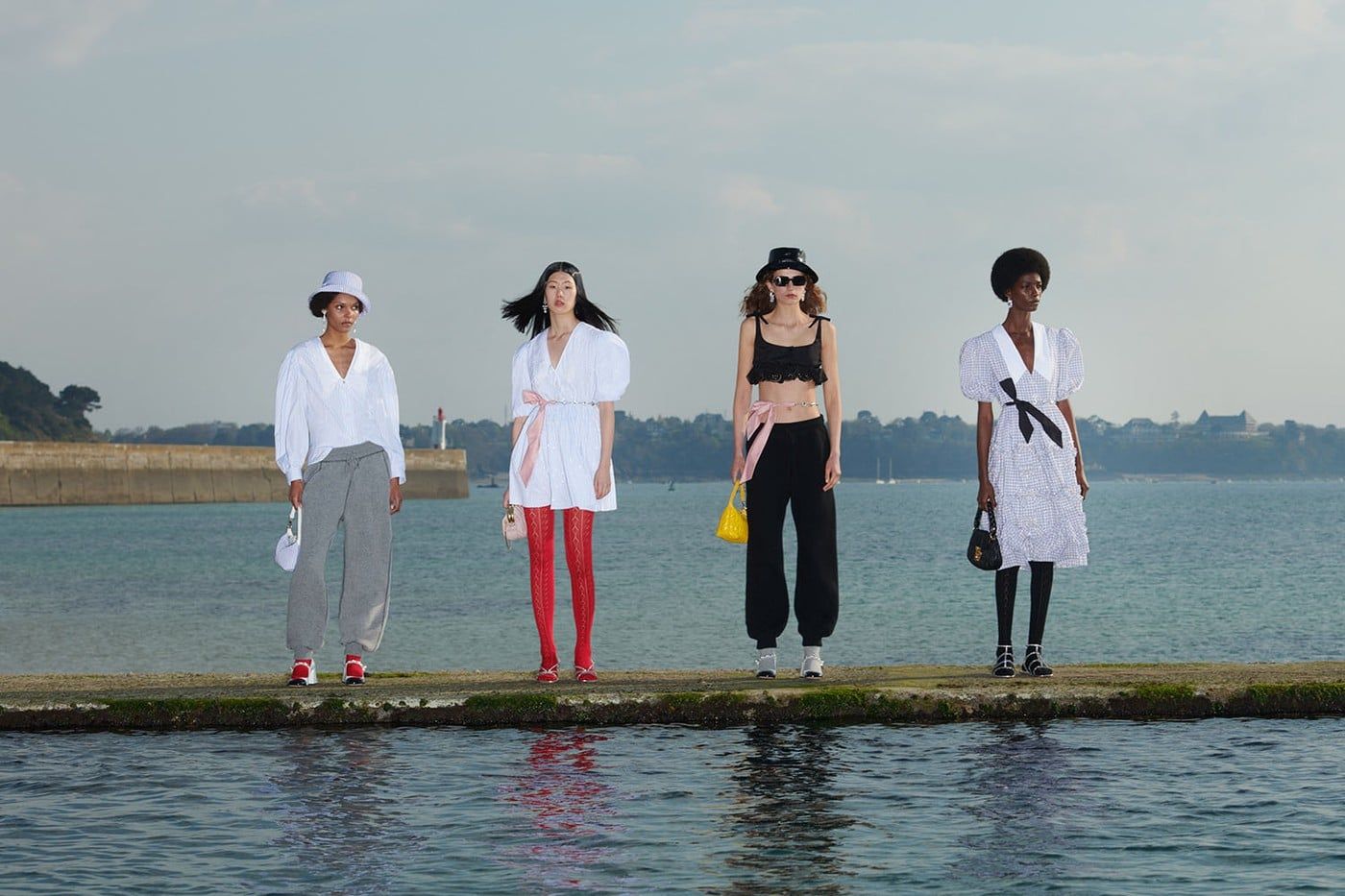 Ekseption: the first multi-brand store in Spain with international notoriety
From Balenciaga to Gucci, through Marc Jacobs . These are just some of the brands that hang from the racks of the Madrid multi -brand Ekseption , one of the first in the capital devoted entirely to luxury . The establishment was born thirty years ago and has its epicenter at number 28 Velázquez street. The world's leading brands have passed through its windows since Bernhart Beteinber and Pepe Barroso -founder of Don Algodón- had the idea of ​​creating a store with luxury items that was actually born in Marbellaand that, after a few years, he moved to Madrid. Undoubtedly, since its creation, thanks to a disruptive concept and an elegant finesse for the choice, it has become one of the most internationally renowned fashion boutiques in Madrid.
Off White: the landing of a flagship store in Spain
The always versatile Virgil Abloh, founder and director of the clothing firm Off-White, has opted for Madrid to open his second store in Spain, after the one in Ibiza. The brand will be installed at number 26 Ortega y Gasset street, between the intersections with Lagasca and Velázquez. In this way, one of the great fashion boutiques in Madrid was consolidated. The urban brand Off-White has been leading the rankings of the world's best-known fashion brands for several years now .
It was founded in 2009, and since then it has only made its way by leaps and bounds among heavyweight firms until it has become  a benchmark.  Today  he is already part of that group of new generation fashion designers and brands that have made their way into European luxury. Its founder Virgil Abloh is a genius in the world of design and fashion. It was in 2013 when he specialized in menswear and launched Off-White.
The best boutiques in the Salamanca district: the capital's Golden Mile
ZAZ Handmade: a masterful combination of passion for fashion and Moroccan cultural heritage
ZAZ Handmade is born from a masterful combination between the passion for fashion and the Moroccan cultural heritage. From this fusion with love, a new firm based on haute couture in Madrid was born without losing the essence of the neighboring country. After months of work, effort and dedication, the time has come to discover the culture of Morocco through fashion . Taking advantage of the double eastern and western culture of its founder, a final product of artisanal elaboration is created which, under the highest quality canons, consecrates a distinctive seal in the Spanish capital. For this, they opted for the modernization of the Moroccan kaftan. The name, like the design, has a reason:Zaz is part of the name of its founder -Zazou- and, furthermore, this is a word that in the Moroccan dialect means 'chic'. The firm has a showroom in order to offer the public something more than just buying fashion, betting firmly on an experience for its customers.
https://www.instagram.com/p/CVyNms-g5dX/embed/captioned/?cr=1&v=14&wp=1316&rd=https%3A%2F%2Fwww.eddkmagazine.com&rp=%2Ftiendas-lujo-madrid-luxury-shopping%2F#%7B%22ci%22%3A2%2C%22os%22%3A6905.20000000298%7D
Exclusivity is the propulsion engine of ZAZ Handmade . Clients have to make an appointment to access the showroom; and once confirmed, Zazou prepares a collection accordingly . In addition, in the showroom itself, there is a tailoring and pattern-making workshop that, like a jewel in the crown, helps to create a final product 10. And it is that in situ the sizing and pattern can be adjusted and corrected according to the needs of customers, granting an extra sophistication to the process. The fabrics, following the principles of haute couture, are eligible to make an unprecedented dress, always with Zazou's 'moroccan touch'. Here you can find dresses, jumpsuits, capes, kimonos, tops… to show off your best version.
https://www.instagram.com/p/CVFtqYugj_D/embed/captioned/?cr=1&v=14&wp=1316&rd=https%3A%2F%2Fwww.eddkmagazine.com&rp=%2Ftiendas-lujo-madrid-luxury-shopping%2F#%7B%22ci%22%3A3%2C%22os%22%3A8032.5%7D
La Folie: among the novelties that you cannot miss if you are a regular at fashion boutiques in Madrid
La Folie is a leading multi-brand space that was born in Santander and is inaugurating a new establishment at number 70 Calle Velázquez in Madrid , in the heart of the Salamanca district. From its origins in the north of the country, the firm has specialized in women's fashion with an exclusive and careful selection of clothing, footwear and accessories . Their goal is based on differentiation, which is why they opt for exclusivity. This is the reason for having our own universe in which to combine the different styles to achieve unique, original and different looks . Innovation is also part of its essence: "we are always looking for new concepts, articles and projects with which to surprise you".
https://www.instagram.com/p/CW8-6r_rGsz/embed/captioned/?cr=1&v=14&wp=1316&rd=https%3A%2F%2Fwww.eddkmagazine.com&rp=%2Ftiendas-lujo-madrid-luxury-shopping%2F#%7B%22ci%22%3A4%2C%22os%22%3A8237.90000000596%7D
Here they have exclusive collections that many of their national and international brands design only for La Folie, limited editions that they select, design and produce with great care . In addition, here you will find collections from brands such as Masscob, Malababa, Vanessa Bruno, Love Stories, Rabens Saloner, Les Coyotes De Paris, Soeur, Des Petits Hauts, JoSephine, Anniel, Louise Misha, Leon & Harper, Magnolya, Devotion, Samsoe Samsoe, Mi&Co… among many other of our favorite brands. Are you going to miss it?
BeniRoom: a new temple for fashion lovers
The boutique launched in 2015 by Beatriz Nicolás has in its catalog names such as Ralph Lauren, Iro, Mioh and Sophie and Lucie, Berenice, Sendra and the Spanish brand of reference in American series such as Sex Education , Celia B . This multi-brand space with canonical essence offers us diverse and well-cared options that have managed to attract models, businesswomen, artists and executives from the national scene. It is a careful, select space, where exclusivity and discretion combine perfectly . A place to appreciate sophisticated pieces, outstanding patterns and top quality materials. A secret? Don't miss her FW 21/22 guest collection , it's wonderful!
Alfaro 1926: tradition and exclusivity in the most cosmopolitan Madrid
Madrid, cosmopolitan and sophisticated. Here, the Alfaro 1926 stores have today become places of reference for lovers of the most exclusive 'shopping' . The best fashion brands living together in a careful and chic way in the same space to offer a different shopping experience. Alfaro opened his first store in 1926 on Madrid's Gran Vía. Since then it has continued to grow in the most emblematic areas of the capital, always attentive to the trending brands of each moment and proposing each season the most careful and current selection of styles and accessories. The manufacture of custom leather garments is the hallmark of Alfaro 1926. Exclusive coats, made entirely in Spain, taking maximum care of all the small details in the production process. Do not hesitate to get yours, it will be an eternal wardrobe.
https://www.instagram.com/p/CYv6djjDuWr/embed/captioned/?cr=1&v=14&wp=1316&rd=https%3A%2F%2Fwww.eddkmagazine.com&rp=%2Ftiendas-lujo-madrid-luxury-shopping%2F#%7B%22ci%22%3A5%2C%22os%22%3A8258.20000000298%7D
Forte_forte: a purely Italian essence in the heart of the capital
The narrative power of clothing is truly felt only when the wearer is the protagonist. Forte_forte aims to dissolve the distance between clothing and the person, putting emotions and sensations at the center . Emotional authenticity is the character that defines the project, which was born from the fraternal bond between Giada and Paolo Forte. The story began with a small collection of hand-finished t-shirts. Raised in the fashion business, the Forte brothers come from Veneto, one of the productive districts where Made in Italy has taken shape and identity over the years, turning the artisanal process into an industrial one, keeping its values ​​intact. and peculiarities. Therefore, it is not surprising that they have opted to export their know-how to different corners of the world, including Madrid.