Madrid has always been an object of desire from time immemorial to the present day. Something that the real estate sector has not been able to ignore, trapped directly by its attributes. Almost without knowing it, Madrid has become a lure to invest in high-quality housing and quality of life. This trend places the capital under the spotlight and has motivated us to discover the best luxury homes to make Madrid your home. Discover Luxury Real Estate Madrid; you will pack your bags soon!
Galerías Canalejas: your home in Madrid's new Golden Mile
Have you ever dreamed of living in the heart of Madrid? The Canalejas complex, located in the new golden mile of the capital, opens the doors to twenty-two luxury homes. These reap an average price of 14,500 euros per square meter, a cost that has not prevented the pre-sale of 16. And no wonder since history comes alive in Madrid's historic epicenter with the imposing erection of the first Four Seasons hotel in Spain.
Four Seasons Private Residences offers a unique opportunity to experience life in one of the most sought-after locations on the national and international scene and in a community that is far more than exclusive. With Four Seasons' premier service and a host of exceptional amenities at their doorstep, owners enjoy unparalleled access to a personalized lifestyle. At the same time, their long-term property management ensures a worry-free ownership experience.
La Moraleja, peace and exclusivity, just a stone's throw from the city center
Five minutes. That is the time that separates Madrid's capital of luxury urbanization La Moraleja. La Moraleja has emerged as one of Madrid's safest and most exclusive enclaves to buy a luxury home. La Moraleja is one of the most coveted enclaves for those looking for luxury design houses, detached houses with gardens and pools, or townhouses just minutes from the center of Madrid with a high-standing profile.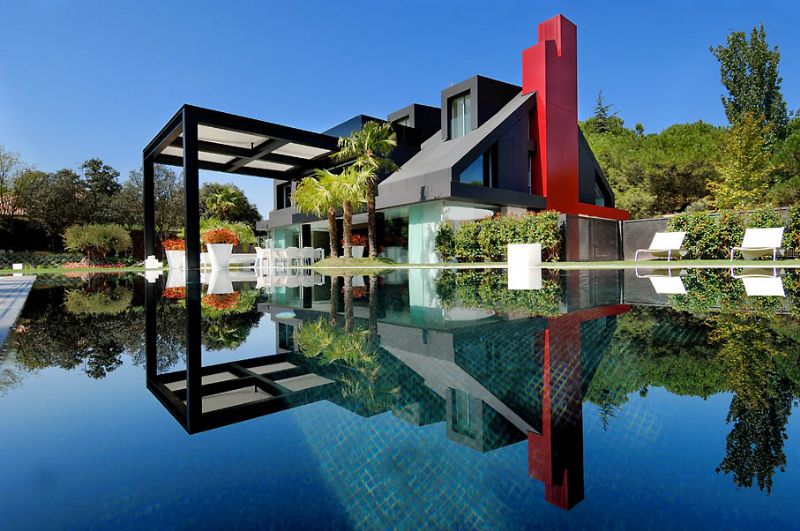 Distinction, luxury, and hedonism coexist in the almost 1,000 hectares of urbanization belonging to the municipality of Alcobendas. A firm commitment to security, peace, and tranquility promoted by critical green areas, the largest concentration of private schools in Spain with centers of international prestige, and an endless number of infrastructures that continue to grow are just some of the attractions that make La Moraleja an exclusive paradise just a breath away from the capital. The best luxury homes in Madrid compete here for the same title.
AQ Gardens La Moraleja: 95 designer villas
Terraces, first floors with gardens, or shared areas with swimming pools, gyms, and coworking spaces outside the frenetic capital, but just a stone's throw away. These are the trends that are bursting with force in 2021. To respond to this demand, AQ Accentor has built AQ Gardens La Moraleja, 95 luxury single-family homes located in the exclusive area of La Moraleja.
All the townhouses, with a surface area of 250 and 400 square meters, are south-facing and distributed over two floors. The price of the AQ Gardens La Moraleja development amounts to 995,000 euros, and its delivery is scheduled for the second quarter of 2021. A perfect bet if you are looking for the best luxury homes in Madrid.
Security, location, and exclusivity in La Finca
Secure value. The urbanization of La Finca is undoubtedly one of the most luxurious in Madrid, according to Luxury Real Estate. Located in Pozuelo de Alarcón, northwest of Madrid, in a few years, it has become one of the most sought-after places to live by the elite. Something that is not surprising to see many of the best houses in Madrid here, in this select urbanization
The La Finca project began in 1989 when Luis García Cereceda hired architect Joaquín Torres to design his entire real estate project. Since then, some of the best-known personalities from the world of sports, culture, and politics have moved their residence to this enclave, raising their fame and prestige. Security, location, and exclusivity are the three words that define its essence. Are you also thinking of moving to La Finca? What would your ideal luxury home be like?
La Finca Real Estate: LGC3
The largest luxury real estate project in Madrid continues its first steps. The most exclusive combination of luxury and security conceived for your enjoyment and materialized with LGC3. This way, La Finca Real Estate is starting to inhabit its latest residential project, the LGC3, next to an imposing 18-hole golf course. It is a set of luxury buildings with homes of up to 400 square meters and a starting price of 1.3 million euros.
La Finca highlights the qualities of the properties, the surroundings, and the security of access to urbanization. There are 144 properties spread over nine blocks, with 42,000 m2 of gardens and lakes, a children's area, a gymnasium, and a communal swimming pool. Also impressive are the views of La Finca Country Club, which will be Madrid's new golf course.
Barrio Salamanca, an icon of Madrid's luxury
The iconic Salamanca neighborhood, nicknamed by the high aristocracy as Madrid's Golden Mile, combines art history and contemporary luxury in every corner. This is one of the wealthiest, most exclusive, and most charming areas of the capital, home to a fortunate few. The organization of its streets, the aesthetics of the buildings, and the decoration of its portals transport us to another century.
A century where luxury and charm were appreciated and breathed into every corner. That is why living in a luxury penthouse in the Salamanca neighborhood can be one of the most rewarding experiences in life, according to the Luxury Real Estate Madrid manual. European avant-garde, a privileged location, security, tranquility, and architectural beauty are just the main touches that invite one to take the Salamanca neighborhood as home. In addition, if you want to invest in a property with real possibilities of revaluation in the future, the Salamanca district is your place.
Los Jerónimos, the alma mater of the Retiro district
Living in Los Jerónimos is a privilege thanks to the classicism and exclusivity breathed here. It is not surprising that the Madrid City Council has been fighting for years to include Los Jerónimos in the UNESCO World Heritage List. Thus, framed in the Retiro district of Madrid, it is one of the areas with the most cultural and architectural references of the capital per square meter. In addition, significant streets, exclusive services, and stately buildings combine with its character.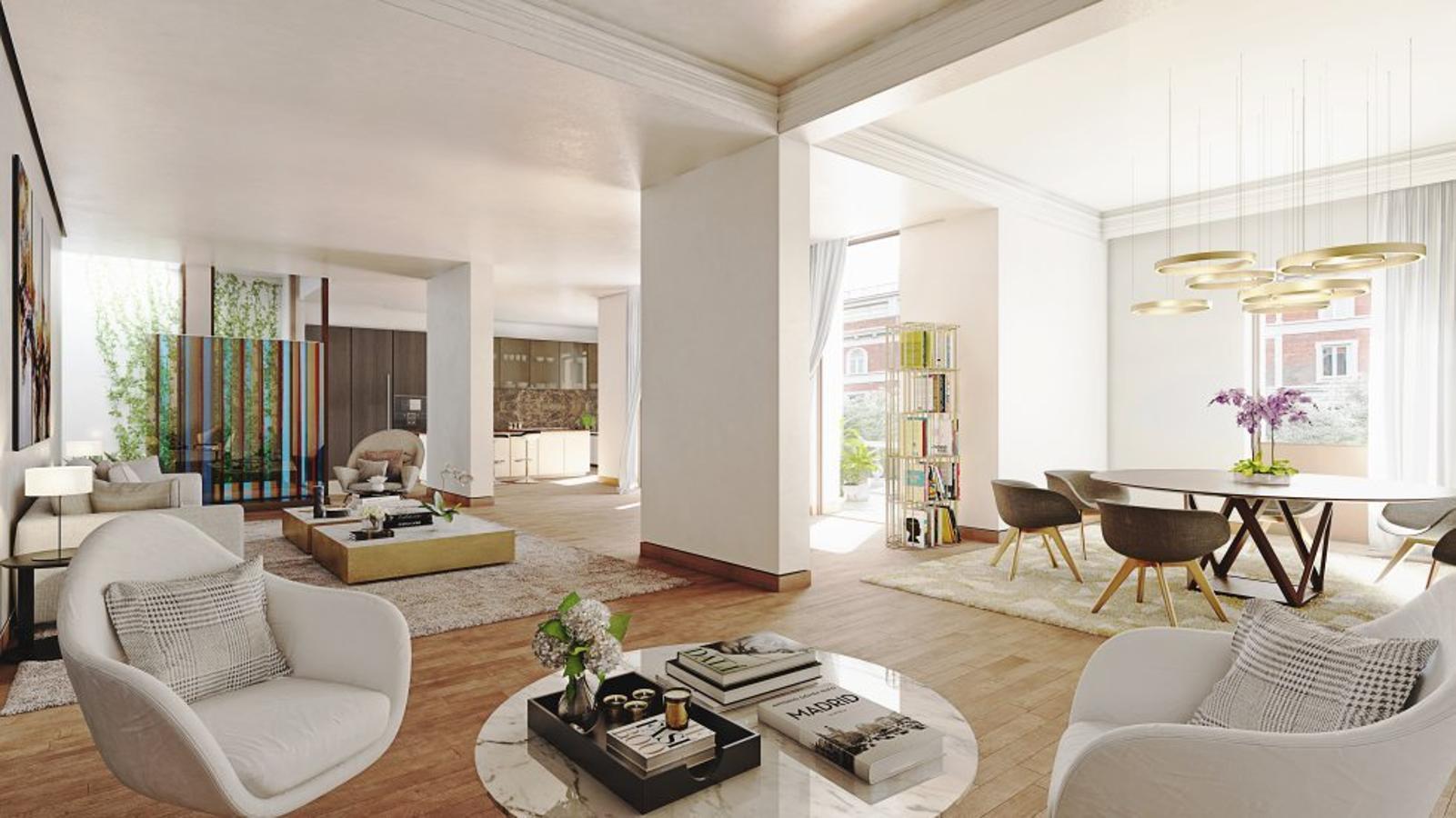 The Jerónimos neighborhood of Madrid has always been a reference of luxury and exclusivity in the capital. It is one of Europe's areas with the highest standard of living. In these streets rise some of the most distinguished properties in the city, especially those located next to El Retiro, being the most exclusive and sought after. If you want to invest in an entire home in Madrid where luxury and scenic beauty come together, Los Jerónimos has to be an option. An exclusive penthouse in one of the reference areas of Madrid will be your refuge in the capital.