The irreverent Madrid also knows how to dress up to enjoy unforgettable nights. Sit at the table of elegance, sophistication, and distinction in one of the most soulful European cities in the world. Discover the gastro paradise that the capital has to offer by the hand of the most luxurious restaurants in Madrid. Some memories remain in our retina; others, on the contrary, are much more exquisite in our palate. EDDK Magazine invites you to enjoy a luxury dinner in Madrid through the know-how and expertise of the most luxurious restaurants.
ZUMA Madrid: gastronomy, aesthetics, and an international option to spend an unforgettable evening
Madrid has people and places from many other parts of the world. And that is why our first proposal is to know ZUMA, the new opening of the prestigious Japanese cuisine chain that is triumphing all over the planet. Excellent raw material stands out amid risky culinary proposals that will make lovers of risk, of the different, and, above all, of care fall in love.
There is no need to choose the type of restaurant we want for a gastronomic evening because in ZUMA they have several: the most traditional menu of Japanese cuisine, the robata option, that is, the barbecue that is having so much success lately, and a sushi bar to taste the best fresh fish in delicious bites with very different mixtures. And as if this were not enough, in ZUMA Madrid, the list of signature cocktails, with Asian flavors and electronic music, enlivens beautiful evenings on its terrace in the center of the capital. Does it sound as good as it tastes?
Santceloni: cuisine, dining room, and wine cellar in one of Madrid's Michelin-starred restaurants
Santceloni restaurant, the flagship of Madrid's gastronomy, is the chosen space for a luxury dinner in Madrid with two Michelin stars as a guarantee. The excellence and balance of chef Óscar Velasco outline this space as one of the best restaurants in Madrid this 2021. Located on Paseo de la Castellana, Santceloni opened its doors in 2001 with a clear proposal of traditional and seasonal gastronomy without losing sight of haute cuisine. Here, the kitchen, dining room, and wine cellar form the three fundamental pillars that support one of the most renowned restaurants if you want to celebrate a luxury dinner in Madrid.
In addition to respect and care for the product, the combination of cuisine and service is already a key and characteristic value of Santceloni. Also noteworthy are its complete wine cellar, with more than 900 references; its cheeses, with more than 350 different varieties; and its artisan bread. Treat yourself to a luxury dinner in Madrid with Santceloni's 'Gran Menú Gastronómico.' It is a proposal made by several passes where you can taste Santceloni's cuisine's essence. Seasonal products are prepared with precision and the utmost respect while maintaining their natural properties. The beef tartar with corn, lobster with steamed endives, cauliflower, and black garlic, or the carrot, lime, dill, oatmeal, and ginger granita stand out.
El Paraguas: tradition and avant-garde in one of Madrid's most famous restaurants
The inimitable Grupo Paraguas offers us an unforgettable gastronomic evening in one of the most elegant restaurants in Madrid. Born from the need to provide the customer with a traditional Asturian cuisine of quality in a caring environment, El Paraguas is already a place of pilgrimage in the capital. This way, a staunch lover of the sophistication of simplicity will be profiled as one of the best restaurants in Madrid in 2021. Experience a luxury dinner in Madrid in one of the favorite spaces for the most sybarite palates of the capital. The restaurant's cuisine is directed by Sandro Silva and his highly talented staff, free of pretensions and excessive artifice.
This gives rise to an extensive menu around meats, fish, and typical Asturian stews. Among our suggestions from the menu, we can highlight the gazpacho with lobster, squid in its ink with onion rice, or spider crab lasagna with Oricios caviar. The cuisine of El Paraguas matches perfectly with the design and decoration of the space, making it one of the luxury restaurants in Madrid. The brown and reddish tones that predominate in the room are enhanced with delicate lighting. Be sure to visit this authentic culinary paradise.
Horcher: tradition for "good food" and ancestral elegance in the capital city
Horcher is, without room for doubt, one of the most classic restaurants in Madrid. A tradition for good food and traditional elegance marks the character of the space. An idyllic setting to enjoy a luxury dinner in Madrid. This temple of good food has been cooked as part of the contemporary history of Spain, sitting at the table of outstanding personalities. Today, the fourth generation, led by Elisabeth Horcher, continues one of the most emblematic family sagas of international haute cuisine.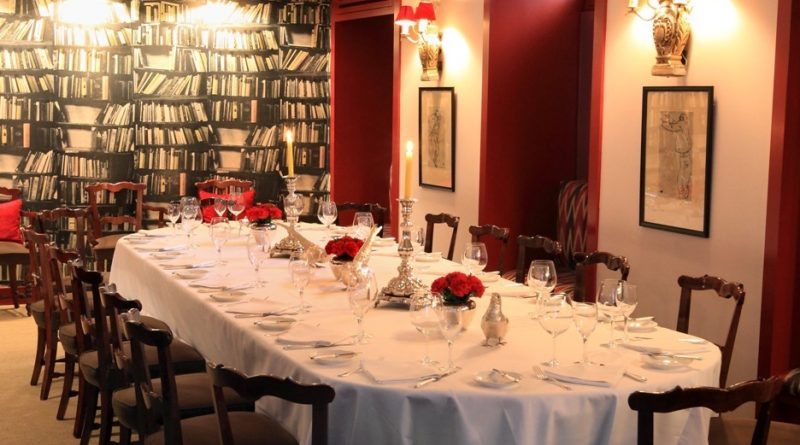 The Horcher dining room is synonymous with the purest classic savoir-faire, silver cutlery, emblem glasses, and cushions as footrests. Menu is made up of immovable classics and additions that are introduced with the change of season. The steak tartar, the consommé Don Víctor or the Stroganoff with Pommery mustard are some dishes that have remained unchanged since 52. More than 70 dishes to choose from, highlighting this restaurant as one of the best to try game products. Its excellent service, complemented by a highly distinguished and traditional atmosphere, makes us choose it and consider it one of the best restaurants in Madrid 2021.
DiverXO: the dreamlike world of Dabiz Muñoz and his three Michelin Stars
If you are looking for a different luxury dinner in Madrid, you can not miss the dreamlike world of Dabiz Muñoz represented in DiverXO. Embark on a journey through the chef's hedonistic cuisine based on creativity and avant-garde, where everything is possible—breaking and daring, always in constant evolution for over a decade. Among the Michelin-starred restaurants in Madrid, DiverXO stands out for its three awards and its disruptive concept that fuses East and West.
Open your mind, wear your best clothes and get ready to enjoy the tasting menu at La Cocina de Los Cerdos Voladores. A new and unprecedented way of understanding haute cuisine and gastronomy through a surprising menu prepared by a talented chef. Discover why we have chosen DiverXO as one of the best restaurants in Madrid 2021. Dare to decipher the gastronomic journey of the master of haute cuisine in a restaurant with its personality. Give a twist to your traditional fine dining in Madrid; DiverXO is your choice. One of the most famous restaurants in Madrid is waiting to surprise you.
Coque: illusions, dreams, and respect for haute cuisine for a luxury dinner in Madrid
Enjoy a luxury dinner in this restaurant with two Michelin stars in the heart of Madrid. Undoubtedly, one of the most elegant restaurants in the capital. Arriving at Coque is to start a four-step gastronomic journey based on flavors and innovation. A journey that incorporates all the senses.
Here, where a cocktail bar is recreated, you will begin your journey through one of the most famous restaurants in Madrid. After the immersion, surrounded by 3,000 references that speak and tell stories, the "coliseum of bottled wine" in three heights brings you closer to one of the three legs of the Coque universe, the enology led by Rafael. The next step awaits you: the kitchen where Mario welcomes you. The last stretch will be led by Diego, the head waiter, who will eventually pass on his heritage to you. You are now part of Coque.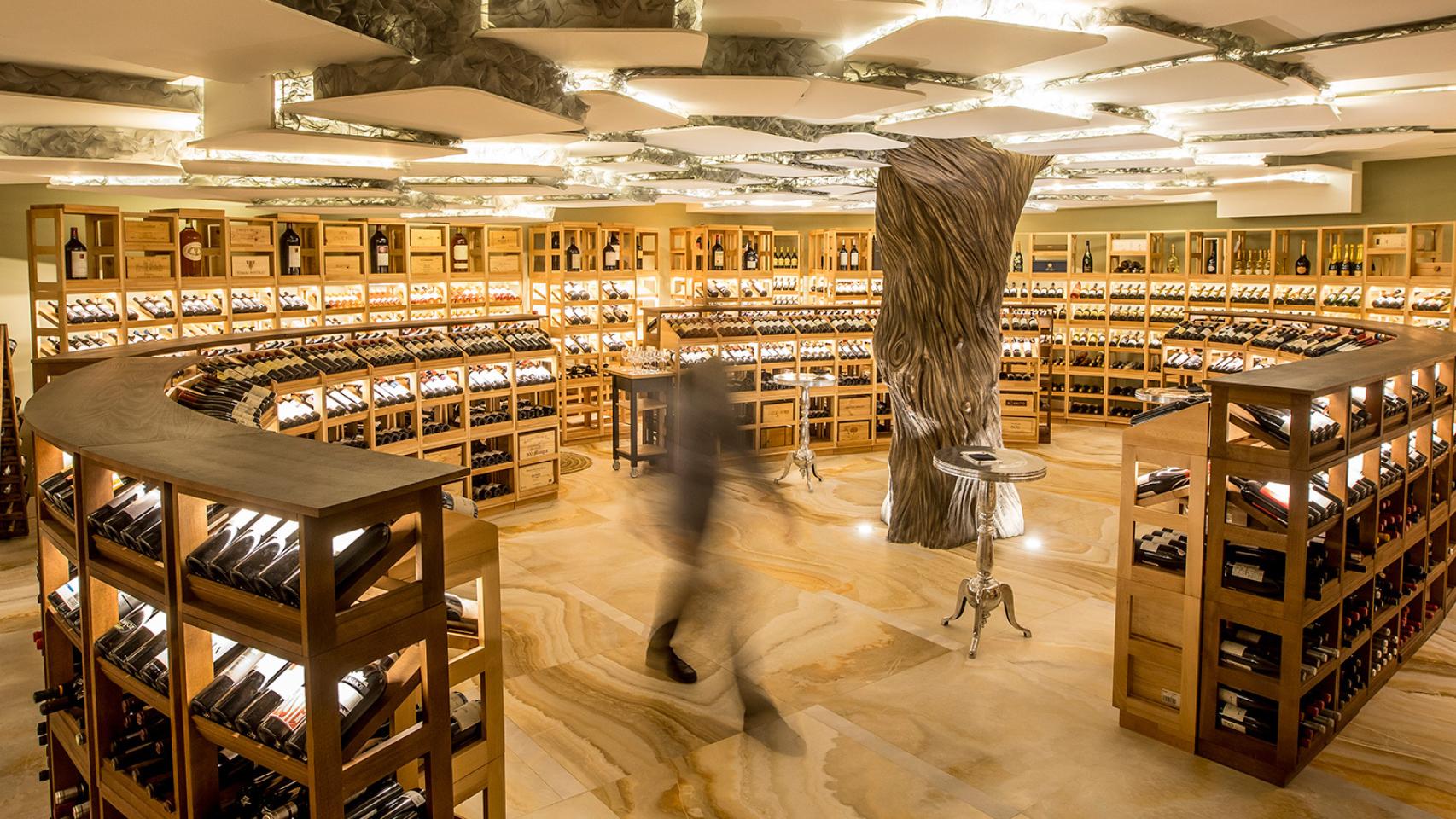 Discover one of the most luxurious restaurants in Madrid at your own pace, embrace haute cuisine, and love it in Coque. Its menu, prepared with care and passion, uncovers succulent delicacies. Among our favorites are the crispy red mullet with sea urchin tikka masala, the monochromatic Skrei cod loin, or the suckling pig with its flaky lacquered skin.