Mens sana in corpore sano. The Latin quotation from Juvenal's Satires once pointed out the need to take pastoral care of body and mind. Something that has been accentuated after the scourges caused by the pandemic and successive confinements. This is the reason that leads us to escape from stress, from the daily routine, and to leave worries behind to focus on our well-being. Ibiza, the beautiful island, invites us to discover the benefits of practicing yoga through the best retreats and classes with a firm purpose: to find a healthy balance between body and mind. Pack your bags; the most magical island in the world awaits you for an authentic Wellness Weekend or Holiday in Ibiza.
Yoga en Tribé: the little meditation paradise at the Riomar Ibiza hotel
Riomar Ibiza hotel, located in Santa Eulalia des Riu, is one of the best options to stay in a space full of comfort and relaxation this summer on the island. The reasons are many and varied, but the most attractive is the space they have reserved to practice yoga in an incomparable environment.
The garden of Riomar Ibiza is tropical in style and is formulated as the ideal place to meet, talk and find the harmony that we all seek. And for that, every morning, they offer yoga classes at Tribé: prices are 20€ per session, but if you can pay 35€, you can enjoy an incredible breakfast where you can focus all the good energy you have gained with yoga. Classes can be booked at the hotel's reception and usually start at 9:00 am.
A place like no other, surrounded by nature and with all the elements to create a space of trust and enjoyment, will suit you wonderfully to practice yoga. Aren't vacations precisely to find peace?
Grupo Amante: discover the pleasure of beach yoga in front of the Mediterranean Sea
located in a spectacular cove, Amante Ibiza is the ideal place for those who want to relax in a particular corner bathed by the Mediterranean. Discover the benefits that the practice of beach yoga brings to your well-being. Body, mind, and spirit come together to achieve the perfect balance. Anchored on a cliff overlooking the cove of Sol d'en Serra, this little piece of heaven on earth is surrounded by lush vegetation and priceless views. A unique setting where the practice of yoga in Ibiza reaches a new dimension. Amante Ibiza and Aiyanna Ibiza offer their loyal users morning yoga sessions followed by an exquisite breakfast.
The truth is that Sol d'en Serra and Cala Nova are beautiful under the rays of the morning sun. They are also the perfect setting for practicing yoga on the beach. Their natural surroundings make them the ideal place for your morning yoga practice. Amante offers yoga classes at 9:00 am every day from Monday to Friday, and booking your class in advance is necessary. The price for these classes, along with breakfast, is 35€. Meanwhile, Aiyanna Ibiza has morning yoga classes on the beach every day of the week except Monday from 9:00 am. After the course, a healthy breakfast buffet is offered, a perfect way to start your day. The menu includes freshly squeezed juices, fresh fruit, eggs, natural yogurt, cereals, dried fruits,
and freshly baked whole-grain pastries. Can you imagine a healthier and more energetic way to start your day? We can't!
Only One Life: an intense yoga retreat in Ibiza
Escape from the hustle and bustle of everyday life with the best yoga retreat in Ibiza from Only One Life Ibiza. The good thing, if brief, is twice as good. So are the yoga retreats offered by Only One Life from April to its customers, giving them an intense experience with which they will be much more than delighted. A spectacular country villa as a reference point and an agenda for four days that aims to restore balance and peace to our lives. Feeling good about yourself is in the know-how of Only One Life Ibiza.
We make people leave happy and rested, but above all we make them feel totally refreshed after a detox weekend.
Located in Sa Carroca, close to beaches such as Salinas, Es Cavallet, or Sa Caleta, it will become home to clients and team during a Wellness – long-weekend in Ibiza. These retreats include four days -usually between Thursday and Sunday- six yoga classes, a guided meditation, a conscious eating workshop, and sound healing. In addition, the cuisine provided to clients is vegetarian, and there is an extra option of massages or family constellations available. Enjoy the benefits of experiencing a slow life at the hands of the best professionals on the island. After all, this is one of the best yoga retreats in Ibiza this 2022 for a reason.
ME Ibiza: antigravity yoga classes in Ibiza Meliá seal for this summer 2022
It is well known that yoga is increasingly widespread in society due to the countless benefits it brings on the physical, mental and spiritual levels. Therefore, when we also have the opportunity to enjoy a Wellness Weekend in Ibiza, choosing the hotel ME Ibiza is a safe bet. One of the best places to practice yoga in Ibiza if what you want is a pleasant, warm and secure environment that Santa Eulalia del Rio can provide. Discover a paradise of relaxation in front of the sea to make the most of the immersion of your yoga retreat in Ibiza.
The Meliá Hotel, one of the most exclusive and prestigious accommodations on the beautiful island, offers its guests the highest standards of quality and comfort. Something that is also reflected in the complimentary yoga classes offered to its guests. The modality that takes place in these yoga classes in Ibiza is known as Antigravity Yoga, which consists of discovering fun, energy, and emotion through free movement. A lifestyle philosophy that combines physical concepts such as strength, stretching, balance, mobility, and breathing with mental concentration techniques.
But also, in case you are going to spend a few days or weeks in Ibiza, and whether you are staying at this hotel or not, it is possible to purchase a package to perform antigravity yoga every morning. This a way to find peace and inner balance during your vacation without giving up exercise and a healthy experience.
Pure Seven: the best place to practice yoga in front of the sea
If you are looking for yoga retreats in Ibiza that take place in a luxurious paradise of wellness overlooking the Mediterranean, without a doubt, Pure Seven is your place. Surrounded by nature, bathed by the Mediterranean, and with direct views of the silhouette of the magical islet of Es Vedrà, the resort 7Pines Ibiza, part of Destination by Hyatt, is drawn. According to popular reviews, Ibiza is one of the best places to practice yoga. Enjoy your yoga classes in Ibiza like never before, with priceless views in an environment cared for down to the smallest detail.
Pure Seven offers meditation and yoga under professional guidance in a natural setting: "our yoga studio is the cliff." The sound of the sea, the connection with nature, and light music will inspire you to disconnect and feel at peace and harmony with yourself. In addition to daily group wellness activities, a full menu of personal services is available upon request; our favorites are Private Yoga, Pranayama, and Private Mindfulness Meditation. Enjoy the detox benefits of this yoga retreat in Ibiza.
Ashram: a yoga retreat in Ibiza in a traditional villa
Ashram Ibiza offers a paradise for yoga lovers. Enjoy a Wellness Weekend in Ibiza in a unique environment adapted to all levels and in different languages. Its retreat center, nestled in the hills north of San Miguel, is an idyllic space if you want to treat yourself to a wellness indulgence. Increase your well-being and help relax your body and mind in one of the best places to practice yoga in Ibiza.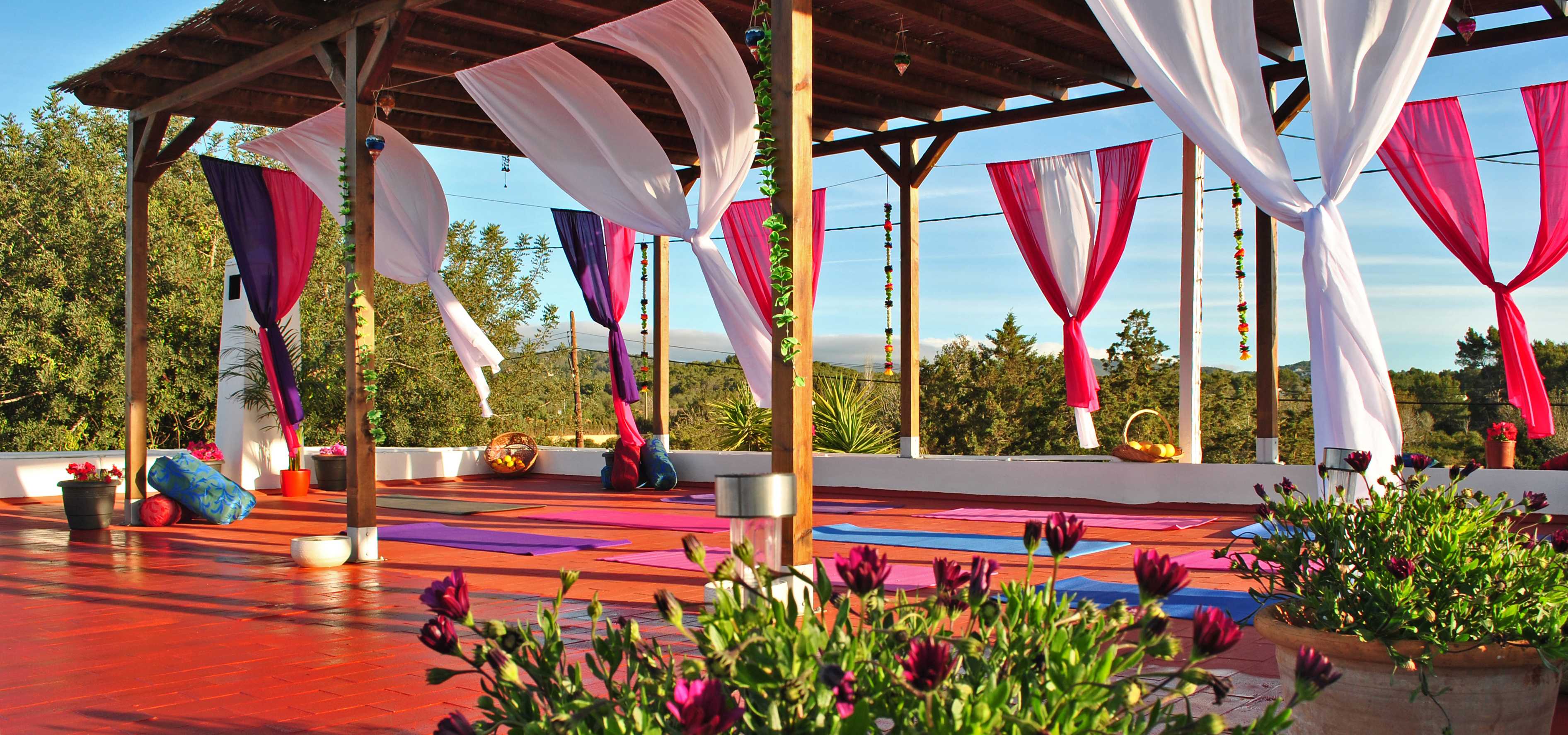 Enjoy your yoga retreat in Ibiza in a peaceful environment created with love and care. The Ashram Ibiza retreat center offers accommodation in a traditional Ibicencan villa surrounded by olive trees. With a capacity for more than 14 guests, Ashram offers its clients all the complete yoga equipment to enjoy their classes. Between May 24 and May 30, 2021, enjoy a holistic yoga retreat in Ibiza that will nourish your body, mind, and soul. This week you will experience the art of relaxation, abandoning old patterns, and embracing your true self by the hand of Ashram Ibiza. Enjoy this journey into yoga, meditation, nature, and introspection in one of the best places to practice yoga in Ibiza.
Mikasa Ibiza: practice yoga in an urban luxury environment
Mikasa Ibiza brings together a luxury yoga retreat and the best of a weekend city break to create a hideaway that will nourish your soul in Ibiza. It combines daily yoga practices, famous Ibizan sites, top-notch accommodations, and nourishing food to balance body and mind. Please take a moment to find out why you are looking for yoga retreats in Ibiza, the benefits, and how much you need. Relax your body, mind, and soul to gain greater self-knowledge, harmony, and joy. Davy Heijmans, resident yoga teacher at Mikasa and Beachouse, will guide you through this yoga retreat in Ibiza.
During the experience, you will stay at Ibiza's premier boutique hotel, located in the exclusive Marina Botafoch. Well-presented and delicious Mediterranean food with a high nutritional content will be served at the table in the beautiful Mikasa restaurant. In addition, one evening, you will have the opportunity to discover Santa Gertrudis and dine in an idyllic restaurant called Finca La Plaza. Services that combine perfectly with the daily yoga practice that welcomes you to Ibiza Wellness. Discover its all-inclusive packages and learn how to take care of yourself from the inside to project it to the world afterward. This is one of the best places to practice yoga in Ibiza.