Taking care of body, mind and spirit should be the cornerstone of human philosophy. However, stress, routine and worries seem to have relegated this motto to oblivion. Dedicating time to oneself and assuming a personal and integral perspective of well-being has become imperative. Therefore, EDDK Magazine invites you to pack your bags; discover the Luxury Spa Ibiza guide if you also need new plans to relax on the island. Take the reins of your own personal care or let yourself be pampered in the best spas in Ibiza. Its luxury wellness centers will be your paradise on earth. Shhhh, be quiet, it's 'me' time!
Wellness Ibiza: an oasis of peace, calm, and well-being on the island that never sleeps 
Aguas de Ibiza: a door to relaxation in Ibiza with a Mediterranean spirit
Located in the Bay of Santa Eulalia stands one of the most prestigious wellness centers in Ibiza. Immerse body and mind in the Mediterranean spirit in this exclusive luxury spa in Ibiza located in the heart of the Aguas de Ibiza Grand Luxe Hotel. Revival is an oasis within the island, a restful place of relaxation and wellness where you can dedicate the time you deserve. With more than 1,500 square meters, this space devoted to self-care and inner peace offers one of the most sophisticated plans to relax in Ibiza.
Our wellness method is based on three pillars: body training, diet and nutrition, and social life.
Find your balance in one of the best spas in Ibiza with its name. The Revival Spa by Clarins occupies a quiet space in the bowels of the hotel inspired by nature. Stimulate your physical, mental, and spiritual harmony by trying the luxurious treatments that have been created for you with great care and attention to detail. Get your spirit as fit as your body. Inside the Revival Spa by Clarins at Hotel Aguas de Ibiza, you will also find a fully equipped techno-gym. In addition, as if this were not enough, Revival also offers a very cozy space with hairdressing, makeup, manicure, and pedicure services. But if you want a secret, our favorite corner is in the hammam area. Let's calm down!
Ibiza Corso Hotel & Spa: a panoramic sanctuary of 700 square meters where you can take care of yourself
Finding time to dedicate the time you deserve is necessary, even on vacation. Ibiza Corso Hotel & Spa offers an authentic panoramic sanctuary where you can worship your well-being-. Here, body, mind, and spirit take on the prominence they genuinely deserve. Let yourself be seduced by the pleasure of pampering yourself, and give yourself the desire to enjoy yourself in a paradisiacal enclave at sea level. Discover more than 700 square meters of wellness; you'll love it!
They are equipped with a sauna, hammam, pure oxygen suite, and indoor pool of 60 square meters with pleasure and counter-current circuits. Outdoor terrace to relax and sunbathe while contemplating the sea. Aromatherapy showers, chromotherapy, rain, and massage. If all this seems minor, let yourself be guided by their specialists and complete this journey through the senses uniquely with their treatments and rituals.
Let yourself be enveloped by their body rituals and massages. Thai, Anti-Stress, and Harmony Stones. Collaborating with the prestigious firm Germain de Capuccini, they promise to rebalance your body and mind. Characterized by its professionalism, quality, and integrity, it is a perfect ally with more than 50 years of beauty care. At Ibiza Corso Hotel, your well-being matters, so what better way to let yourself be pampered than by the expert hands of its professional team?
Six Senses Nobu Bay: life flows here in one of the best spas in Ibiza
Enjoy the wellness centers in Ibiza where life flows, in the Six Senses Spa at Nobu Hotel Ibiza Bay. Nobu has enviable facilities and a qualified team that will make you reconnect with your spiritual side. This is, without a doubt, one of the quintessential plans to relax in Ibiza. Two expert therapists perform the Nobu Ibiza Bay Spa Ritual. This will begin with a dry brushing that leads to a body massage with aromatic oils. In addition, the experience includes foot acupressure and facial and scalp cleansing massage with natural products.
This oasis in Ibiza Bay Spa by Six Senses has emerged as one of the quintessential wellness centers on the island. A place to find the peace you are looking for in a luxurious environment to let the relaxation flow. It combines bohemian character and luxury with a sophisticated design inspired by the personality and colors of Ibiza. Its restorative massages, high-performance facials, and nourishing body treatments have been designed to stimulate and reactivate your energy. Have a look! In addition, at the resort's Nail Bar, you can finish off your pampering session with a trendy manicure or pedicure. For the daring, a visit to the John Frieda Hair Salon is synonymous with an iconic makeover.
Hacienda Na Xamena: La Posidonia, a luxury spa in Ibiza for lovers of originality
Hacienda Na Xamena is an oasis of tranquility that offers you to live dreamy moments on the white island. Considered one of the best spas in Ibiza, Na Xamena combines nature, magic, and views in its purest essence. Discover an emblematic place on the island, a paradise overlooking the sea perched on the mountain, an oasis of relaxation in Ibiza. La Posidonia, the Spa in the heart of Hacienda Na Xamena, offers a relaxed atmosphere in a quiet place dedicated to spiritual and physical well-being. Its unique outdoor therapies and experiences are ideal for relaxing in Ibiza.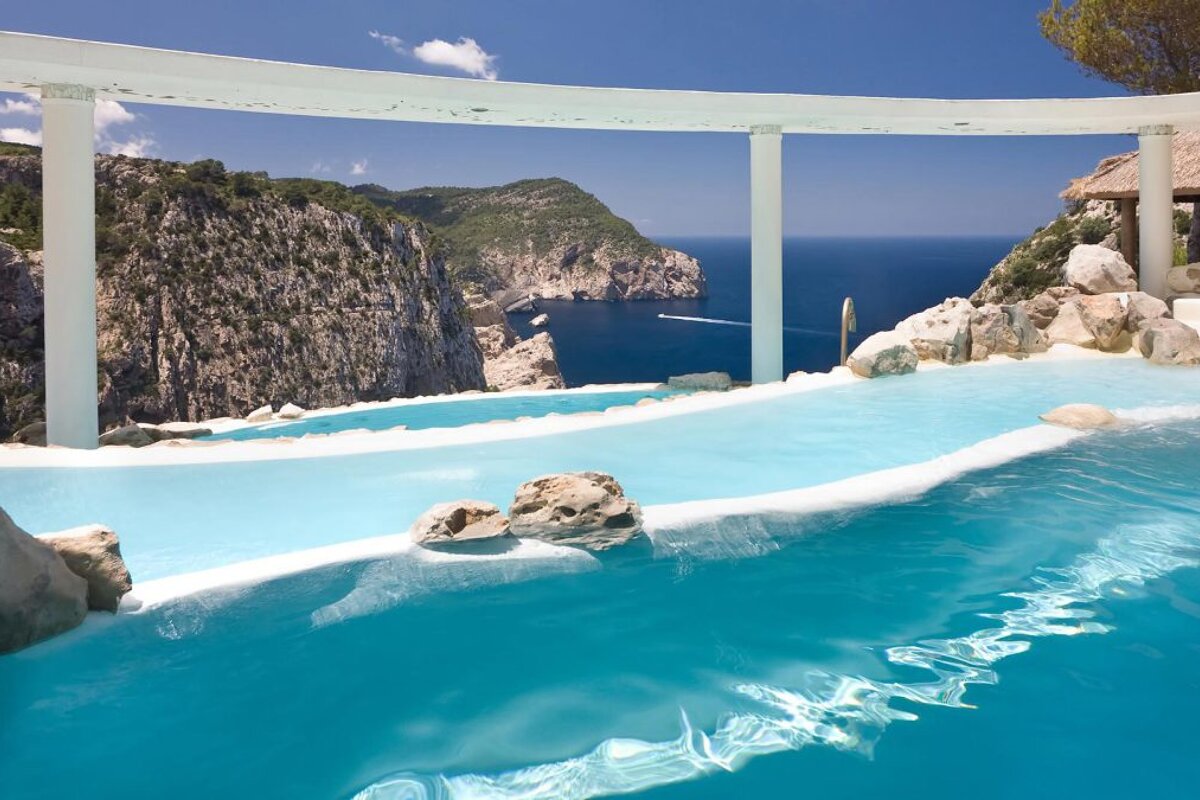 This small sanctuary in which to be reborn is emerging as a luxury spa unique in style and essence. Let yourself be surprised by a full menu of care, each more sophisticated. Among the outdoor experiences highlights the balneotherapy treatment Cascadas Suspendidas, with priceless views of the sea and cliffs. However, that's not all; you can enjoy yoga classes, meditation, or an aquatic massage. For the classics, Na Xamena offers traditional therapies and luxurious facials with Skinceuticals.
Thai Room Spa&Wellness: traditional Thai massage enriched "naturally."
The Hotel ME Ibiza allows you to reconnect with your most intimate and personal self through a unique wellness experience. Native Thai therapists have exported to their Thai Room Spa & Wellness the best massages and treatments from their homeland. Inspired by Thai techniques, Ayurveda and other Southeast Asian practices offer a wide range of luxurious massages and treatments: dry or with oils, warm or hot, with or without aromas, with one or several therapists. Feel renewed and reinvigorated with holistic medicine for body and soul in this authentic wellness sanctuary. Their "naturally enriched" massages are the jewel in the crown. "We offer traditional Thai massage techniques focusing on acupressure, engaging with the Sen lines of your body's energy channels." Reduce stress, relieve tension and increase flexibility to feel uplifted.
At Thai Room, all their body wraps, scrubs, and facials use only 100% natural products. These are blended by the expert hands of their therapists during the treatment to ensure gentle cleansing and self-healing. In addition, there is the possibility to create your own Thai Room Collection package and enjoy a personalized experience entirely to your liking. You can customize your session by combining any of their massages, scrubs, wraps, and facials and decide the duration of each of them. Also, note that all Thai Room Wellness treatments give you free and full access to their Spa; can't you wait to try it, either?
And if you prefer physical and mental relaxation through sport, you will also find antigravity yoga sessions at ME Ibiza. This is a freestyle of yoga, where energy flows through different movements in the air. The incomparable landscape of ME Ibiza is essential in the search for balance and peace of mind and a perfect addition to Thai massage sessions.
Open Spa Ibiza Gran Hotel: the most comprehensive and most sophisticated offer of relaxation on the island
A temple of spirituality, harmony, and calm. These words describe one of the best wellness centers in Ibiza: the Open Spa in the Ibiza Gran Hotel. The eloquence of sensitive hands, the softness of natural treatments, and the luxury of losing track of time. Treatments, rituals, and sensations are provided by a combination of hospitality, personalization, and discretion, according to the philosophy of the Gran Hotel.
Four different spaces, complementary to each other and provided with details that convey a pleasant feeling of purity, are distributed throughout the length and breadth of 1300 square meters. Open Experience, Open Aqua, Open Fitness, and Open Beauty are integrated to provide a unique experience of deep wellness worthy of the best luxury spa in Ibiza. In addition, this exclusive luxury hotel offers its guests the possibility of transferring the Open Spa experience to their most intimate and personalized space: their suite. Enjoy all five senses of an exclusive experience at the height of sophistication and lifestyle of the clients of this iconic luxury hotel in Ibiza.
Pure Seven: best luxury spa in Ibiza
Suppose there is a name that stands out among the best spas in Ibiza: Pure Seven. Surrounded by nature, bathed by the Mediterranean, and with direct views of the silhouette of the magical islet of Es Vedrà. The 7Pines Resort Ibiza, part of Destination by Hyatt, offers one of the most prestigious wellness centers in Ibiza. Water as an element, the island's colors, and the contrast of materials provide an experience with commendable indoor and outdoor spaces. Open to hotel guests and visitors alike; it is dedicated to holistic wellness experiences that convey a sense of purity and serenity.
A haven of wellness inspired by the Mediterranean lifestyle and the energy of Ibiza. This luxury spa in Ibiza is on a mission to reconnect body and mind – and boy, it succeeds! Pure Seven offers spa treatments, beauty services, physical and mental activities, and wellness retreats. More than 1,500 square meters destined to relax invite you to disconnect. Enjoy the wet area with two saunas, a steam bath, an ice cave, a shower circuit, and a footbath. In addition, you can discover an exclusive menu of treatments to be performed in its six cabins, including one for couples.
The best spas in Ibiza are waiting for you on the beautiful white island; you can't miss them!