A total of 1,435 kilometers. That is the distance between Spain and Italy. A space that seems to diminish when we sit at the table of the best Italian restaurants in Marbella. Enjoy Italian gastronomy in these impressive establishments and discover the concept of 'felicità Alla Italiana. Embark on a gastronomic journey to the eternal city; the luxury Italian restaurants in Marbella offer you a unique experience without leaving the Costa del Sol. Let yourself be surprised by its traditional cuisine, exquisite decoration, and romantic and avant-garde atmosphere. Buon appetito!
Luxury Italian restaurants in Marbella: a nod to neighboring cuisine 
Serafina: from contemporary Marbella to classical Italy 
Suppose a name stands out among the Italians in Marbella, Serafina. Embark on a gastronomic journey without coming from contemporary Marbella to classic Italy. The authentic taste of Italian cuisine is found here in Puente Romano. This space is defined by traditional Andalusian architecture with gardens, fountains, and palm trees by the sea. In this spectacular way, it offers diners a unique environment. Immerse yourself in the universe created by brothers Marco and Carlo Morelli and enjoy Italian haute cuisine.
This elegant and sophisticated restaurant is above the Beach Club Hotel in Puente Romano and is ideal for enjoying Italian food in Marbella. Serafina represents the best authentic Italian cuisine, with a carefully selected wine collection, service, and atmosphere in perfect harmony. Among our must-tries, the Capesante alla piastra, the spaghetti frutti di mare in bianco or the pizza tartufata.
La Loggia: a Mediterranean paradise with Italian cuisine
That pleasure hidden in the small details is something they know very well in Anantara Villa Padierna. So if you are looking for the best Italian restaurants in Marbella, La Loggia is the place for you. The restaurant's terrace, with the golf course in the foreground, rewards guests with spectacular views of Gibraltar and the African coast. This a magnificent gastronomic spot to consider if you want to enjoy the best Italian food in Marbella.
Enjoy authentic Mediterranean flavors that combine perfectly with its offer of pizzas and pasta. Let yourself be surprised by the delights of the La Loggia tasting menu inside. Among the menu, highlights are the tagliatelle Frutti di mare, the sea bass loin in Livornese sauce, or the beef tenderloin 'Rossini' with port sauce and Tartufo. Top it off with the limoncello cake with toasted meringue or the Tuscan tiramisu casserole. Discover why it is one of Marbella's luxury Italian restaurants par excellence.
Da Bruno Sul Mare: a special touch among the Italian restaurants in Marbella
Bruno and Giuseppina Filippone started working in the restaurant business more than four decades ago. And since 1994, they fell in love with one of the most attractive areas of the Mediterranean, Marbella, the capital of the Costa del Sol. Here they settled, transferring all their gastronomic experience to create a new concept of international Italian cuisine. Passion for well done, quality, and distinction in service are the fundamental pillars supporting Da Bruno.
Enjoy one of the best Italian restaurants in Marbella and the quality of its cuisine; you won't regret it! A carefully selected menu awaits you with succulent delicacies to taste exquisite traditional Italian cuisine. Discover the risotto with truffle, beef tenderloin carpaccio with Parmesan, linguini with crayfish, and asparagus tips or stuffed calzone. You will fall in love with Da Bruno's cuisine, which is incomparable.
Trattoria Buonamico: from Tuscany with a lot of passion
From Tuscany to the Costa del Sol. Buonamico is one of the Italian restaurants in Marbella par excellence. The Italian cuisine offered here is reminiscent of the flavors of the region's capital,s Florence. Authentic tradition and passion are breathed into this establishment in La Zambomba. Here you can embark on a relaxed gastronomic journey thanks to a sophisticated yet warm atmosphere. Sitting at Buonamico's table means enjoying, sharing, and tasting authentic Italian cuisine.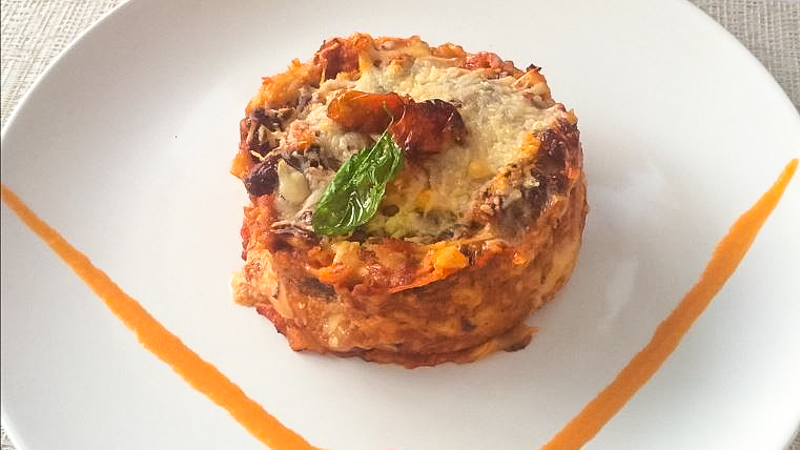 The Biagini family house has served illustrious personalities throughout history, beginning in 1901 in Versilia. Since then, what was once a seafood sandwich shop has consolidated its status in Italian haute cuisine. Buonamico's carefully selected menu is divided into four sections: antipasti, first course, main course, and dessert. If you are looking for a recommendation, try the black Angus carpaccio with rice, Parmesan, and mustard; the fresh pasta Tacconi Alla Trabaccolara; or the errata Alla Vernaccia with Tropea onion. Their desserts will not leave you indifferent; save room!
Villa Tiberio: Sandro Morelli's haute cuisine presides over the table
Imagine a Mediterranean palace surrounded by lush vegetation, a menu capable of conquering the most trained palates, and a wine cellar that captivates wine lovers. This is, in essence, Villa Tiberio, one of Marbella's most coveted luxury Italian restaurants. This restaurant is known on the Costa del Sol for its high standards and impeccable service. Here, its owner, Sandro Morelli, serves guests as if they were guests in his own home.
An extensive and carefully selected menu awaits you at Villa Tiberio; however, according to Morelli's recommendation, asking for your favorite dish is a good idea. Sandro points out that it is impossible to offer a typical menu in Marbella because it is so cosmopolitan. For this reason, they try to provide all the best that Spain produces, incorporating it by the hand of their chefs into their traditional Italian and international recipes. Undoubtedly, one of the most charming Italian restaurants in Marbella.